Welcome to the Workshop on Inverse Problems in Scattering and Imaging, which will take place on Saturday April 13, 2013 at Purdue University, West Lafayette, IN. The workshop site will be in the Lawson Building Room 1142 (LWSN 1142), Purdue University, 305 North University Street, West Lafayette, IN 47907.
accommodation
Address: 101 North Grant Street, West Lafayette, IN 47906
Phone: (800)320-6291, (765)494-8913
Address: 356 East State Street, West Lafayette, IN 47906
Phone: (765)743-2100
Holiday Inn (free shuttle to campus)
Address: 515 South Street, Lafayette, IN 47901
Phone: (765) 423-1000
Click here for a campus map. Below is a map with both hotel locations and the worshop location.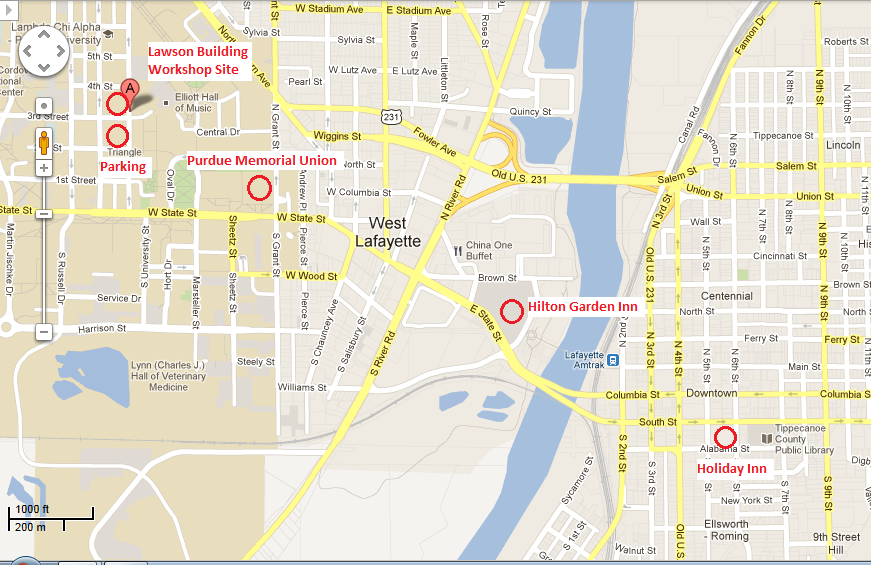 dining
There are several restaurants around the hotels. Here is a partial list of suggested restaurants. They are subdivided according to their location. We remind you that the area code for West Lafayette is 765.
West Lafayette, close to campus
Name
Style
Address
Blue Nile
Mideastern ($)
117 Northwestern Avenue, 743-9330
Bombay
Indian ($$)
111 South River Road, 746-2345
Einstein's Brothers Bagels
Coffee and Sandwiches ($)
201 Northwestern Avenue, 743-8988
Greenleaf
Vietnamese ($)
111 South River Road, 743-2288
Green Sprout
Korean ($)
102 North Chauncey Avenue, 269-7393
Khana Khazana
Indian ($)
108 Northwestern Avenue, 743-1223
Maru Sushi
Japanese ($$)
111 North Chauncey Avenue, 743-2646
Nine Irish Brothers
Beer and Irish ($)
119 Howard Avenue, 746-4782
Panera Bread
Coffee and Sandwiches ($)
328 East State Street, 746-2400
Potbelly
Sandwiches ($)
117 Northwestern Avenue, 743-2993
Vienna Cafe
Coffee and Sandwiches ($)
208 South Street, 743-4446
Note: ($) cheap ($$) expensive ($$$) more expensive
Downtown Lafayette
Name
Style
Address
Bea One
Korean ($$)
220 Columbia Street, 742-6100
Bistro 501
French ($$$)
501 Main Street, 423-4501
Kokoro
Japanese ($$)
526 Main Street, 742-8180
Note: ($) cheap ($$) expensive ($$$) more expensive
On Sagamore Parkway and on SR 26 (not in walking distance from campus)
Name
Style
Address
Heisei
Japanese ($$)
1048 Sagamore Parkway West, West Lafayette, 469-1682
Maza
Italian ($$)
705 Sagamore Parkway West, West Lafayette, 838-3000
Outback Steakhouse
Meat ($$)
3660 State Road 26, Lafayette, 449-1790
Sharma's Kitchen
Indian ($)
1403 Sagamore Parkway, Lafayette, 769-4455
Szechuan Garden
Chinese ($)
945 Sagamore Parkway West, West Lafayette, 463-2364
Note: ($) cheap ($$) expensive ($$$) more expensive
Some more information can be found from: