2014 Distinguished Mathematics Alumnus
04-08-2014
College of Science Distinguished Alumni visited the West Lafayette campus to attend recognition events on April 11, 2014.
Thomas E. Arenberg
Accenture Senior Executive-Retired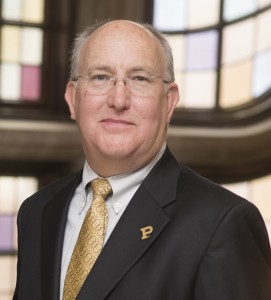 Tom Arenberg graduated from Purdue University with a Bachelor of Science degree in Mathematics in 1974 and a Master of Science degree in Industrial Administration from the Krannert School in 1975.
Tom spent his 34-year career at Accenture in Milwaukee. At the time of his retirement, he was a Senior Executive and the Managing Director of the Milwaukee office and served as the Director of Quality for the Products North America Operating Group. He worked with a wide range of clients including Harley-Davidson, Case-New Holland, Johnson Controls, Miller Brewing, Tombstone Pizza, Kohler, and Rockwell Automation. He worked with Manufacturers and Dealer organizations to identify and implement improvements in Quality, Customer Service, Manufacturing Operations, and Information Technology.
"I saw math as the ability to see structure and patterns in complexity. That this a handy tool in analyzing business issues. By simplifying the wide range of data available in business, we could show a company what needed to change and the impact of that change in a believable fashion," says Tom.
Tom is active in several community organizations. He is the Board Chair for the Children's Hospital of Wisconsin Foundation, and the head of the Policy Committee. He served five years as the Board President for the Next Door Foundation, an organization serving the inner city of Milwaukee. He is on the Board of Beyond Vision, an organization that provides manufacturing employment for the sight impaired. He serves on the Ghost Ranch Foundation Board, a retreat center in New Mexico. He is also a Board member for SportsChallenge an organization that works to build leadership and life skills in high school athletes.