2016 Baxter awardees announced
02-26-2016
Carter Ludwig Chain and Noah Rouleau were presented with the 2016 Glen E. Baxter Award by the Baxter Memorial Fund Chairman, Robert E. Zink, and the Head of the Department of Mathematics, Greggary Buzzard.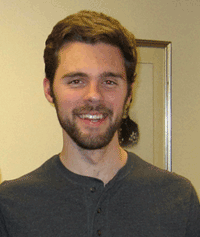 Carter Ludwig Chain
Carter Ludwig Chain is pursuing an Honors degree in Mathematics and he has done excellent work in the fields of Biology and Chemistry and Physics, as well. He has gained considerable experience as an undergraduate participant in research programs, in the Wang Lab in Auburn University and in the Deng Lab in the Purdue University Department of Agricultural and Biological Engineering, and he is the co-author of a chapter in the textbook "Nanocomposites for muscular tissue regeneration."

He has held the Agricultural and Biomedical Engineering New Century Scholars Scholarship, the Keith Krach Leadership Scholarship, and the Purdue University Trustees Scholarship. He has served as a Teaching Assistant in the Department of Physics, and he has also been a good citizen of the larger community, serving as co-director of the PATH Street Outreach Team, providing resources to homeless persons in the greater Lafayette area.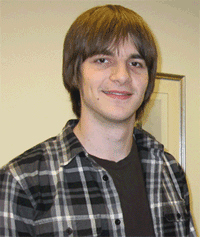 Noah Rouleau
Noah Rouleau is also an Honors scholar, following a course of study in Computer Science and Applied Statistics, and he, too, has built an outstanding academic record. His broad academic program includes many of the strongest courses we have to offer to undergraduates.
He was National Merit Finalist, and a National AP Scholar; he is a member of the Purdue University Honors Program, and he holds a Purdue Presidential Scholarship.
Rouleau has served ably as an Undergraduate Teaching Assistant under Dr. Rodriguez-Rivera; he was a developer of the Lawson Video Wall; and he has gained considerable work experience as a Software Engineering Intern with Google Inc.; as a Software Development Intern with Metronet, Evansville, Indiana; and as a Partner in 3Caps LLC, Evansville, IN.
The Glen E. Baxter Memorial Fund was established in 1983 by family and friends of Professor Baxter shortly after the premature death of this gifted teacher–scholar. Annual proceeds from the fund are used to honor undergraduate students who have demonstrated excellence in mathematical scholarship. The fund is held in trust by Purdue University, and the recipients of the awards are selected by a committee of professors from the Departments of Mathematics and Statistics.