Peter Boyd receives Bruce Helfert Memorial Award
05-17-2016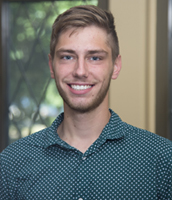 Peter Boyd has been awarded the Bruce Helfert Memorial Award for 2015-2016. 
This award is given to juniors in the College of Science or College of Engineering who are evaluated based on their potential for success in applying their knowledge in their chosen field; ability to communicate an understanding of their discipline to others; dedication to sharing their knowledge; and concrete evidence of social concern.  Candidates must also have at least a cumulative 3.5 GPA.
Awardees are nominated in their junior year.  Prof. Mark Ward, Prof. Jon Peterson, and Prof. Robert Swihart wrote support letters for Boyd's nomination this year.
The $1000 award is given in memory of Bruce Hilfert who graduated from Purdue's School of Science in 1964.  The memorial award was set up by his mother Mrs. Sylvia Helfert.