Peter Boyd named 2017 G.A. Ross awardee
04-21-2017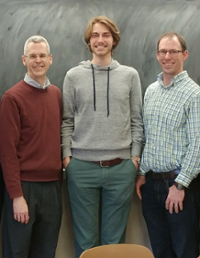 Congratulations to this year's G. A. Ross awardee, Peter Boyd. 
Boyd, who is from Saint John, Indiana, will graduate in May with majors in applied statistics, actuarial science, mathematical statistics and mathematical statistics with a math emphasis in the College of Science and a minor in management.
He is Stamps Scholar, member of the Honors College's Honors Leadership Council, involved in Mortar Board, Purdue Student Government, SOGA and the Honors Mentor Program, among other things.
This commitment to leadership, service and scholarship is what lead College of Science academic advisor Susan Young to nominate him for this prestigious award.
Named for a 1916 alumnus, the G.A. Ross Award recognizes a graduating senior who demonstrates high standards of academic achievement, outstanding leadership, strength of character and contribution to Purdue. It is awarded annually to Purdue's outstanding graduating senior man. (The Flora Roberts Award is given to the outstanding senior woman.)