Math Continuing Lecturers honored for work in open access
10-22-2018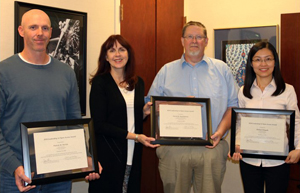 Owen Davis, Huimei Delgado, David Norris, Patrick Devlin, and Timothy Delworth were among those honored with the Leadership in Open Access Award from Purdue University Libraries and the Office of the Provost on Oct. 22, 2018.
With assistance from Dave Huckleberry — now coordinator of digital instruction, Purdue Department of Physics and Astronomy — and ITaP they transitioned their courses from proprietary published textbooks and homework systems to LON-CAPA, an open source, open access courseware system.  Students in courses using this system do not need to buy books, or a courseware package for their mathematics course.
This award is meant to recognize those who design equitable foundations for open knowledge.