Jeff Beckley Retirement
01-27-2023
CELEBRATING JEFF BECKLEY
Longtime director of the actuarial science program retires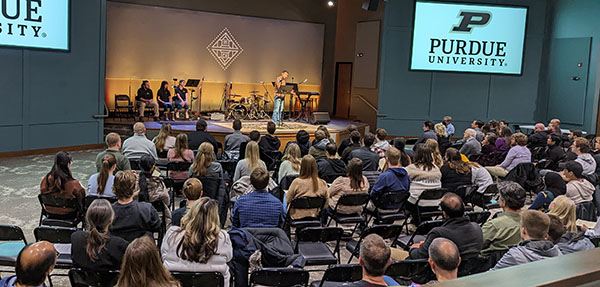 It was a full house on Thursday December 1, 2022 as colleagues, students, alumni, family and friends gathered to celebrate the retirement of Jeff Beckley, director of the actuarial science program.
The success of our highly acclaimed actuarial science program is the result of years of thoughtful, inspired leadership. Jeff was fifth in a line of directors who created the actuarial science curriculum at the urging of students, then raised the profile to national acclaim.
Jeff came to Purdue in 2004 and became a very popular senior lecturer in actuarial science. By modest estimates, Jeff taught 4000 students throughout his career. He served as co-director of the program from 2009 – 2017, then as director from 2017 – 2022.
Most notably, Jeff is an actuary of the highest designation: a Fellow of the Society of Actuaries (FSA). He achieved this status by passing a series of vigorous professional examinations in advanced topics of mathematics and statistics in the context of insurance and other lines of actuarial work.
As both an actuary and an academic, Jeff had the qualifications and credibility to forge strong professional partnerships. His industry connections generated internships for students, full-time employment opportunities for graduates and kept the curriculum grounded in current best practices.
The retirement celebration featured stories of appreciation and gratitude. Many recollections referred to recurring themes: Jeff's deep knowledge of his field, his genuine care for students and his commitment to creating connections with academia and business and industry.
If you joined us for Jeff's retirement celebration, thank you for making the evening one he – and we – will remember. If you were unable to join us, you can access a recording of the evening or view tribute video messages made for Jeff by alumni, family, colleagues, and friends or recognize Jeff with a contribution to the Beckley Family Actuarial Science Scholarship.